Communication Tips
As your loved one's Alzheimer's progresses, you will notice changes in communication. Trouble finding words, increased hand gestures, easy confusion, even inappropriate outbursts are all normal. Here are some do's and don'ts on communicating: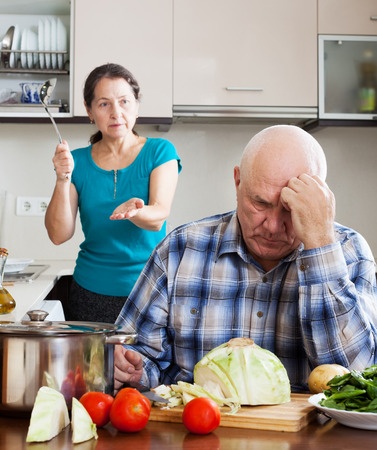 Do's
Avoid becoming frustrated by empathizing and remembering the person can't help their condition. Making the person feel safe rather than stressed will make communication easier. Take a short break if you feel your fuse getting short.
Keep communication short, simple, and clear. Give one direction or ask one question at a time.
Tell the person who you are if there appears to be any doubt.
Call the person by name.
Speak slowly. The person may take longer to process what's being said.
Use closed-ended questions which can be answered "yes" or "no." For example, ask, "Did you enjoy the beef at dinner?" instead of "What did you have for dinner?"
Find a different way to say the same thing if it wasn't understood. Try a simpler statement with fewer words.
Use distraction or fibs if telling the whole truth will upset the person with dementia. For example, to answer the question, "Where is my mother?" it may be better to say, "She's not here right now" instead of "She died 20 years ago."
Use repetition as much as necessary. Be prepared to say the same things over and over as the person can't recall them for more than a few minutes at a time.
Use techniques to attract and maintain the person's attention. Smile, make eye contact, use gestures, touch, and other body language

.
Don't
Ever say things like: "Do you remember?" "Try to remember!" "Did you forget?" "How could you not know that?!"
Ask questions that challenge short-term memory such as "Do you remember what we did last night?" The answer will likely be "no," which may be humiliating for the person with dementia.
Talk in paragraphs. Instead, offer one idea at a time.
Point out the person's memory difficulty. Avoid remarks such as "I just told you that." Instead, just repeat it over and over.
Talk in front of the person as if he or she were not present. Always include the person in any conversation when they are physically present.
Use lots of pronouns such as "there, that, those, him, her, it." Use nouns instead. For example, instead of "sit there" say "sit in the blue chair."
Use slang or unfamiliar words. The person may not understand the latest terms or phrases.
Use patronizing language or "baby talk." A person with dementia will feel angry or hurt at being talked down to.
Use sarcasm or irony, even if meant humorously. Again, it can cause hurt or confusion
Information Source
http://www.helpguide.org/elder/alzheimers_disease_dementias_caring_caregivers.htm