Who is Home Care To You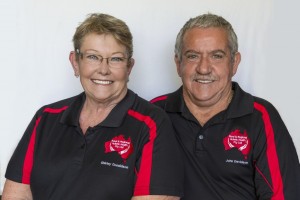 Let us introduce ourselves we are Shirley & John Davidson directors of Rural & Regional Holistic Health Pty Ltd and the Owners of Home Care to You Australia which is based in Toowoomba. We personally handle the day to day operations of Home Care To You Australia dealing directly with clients all over Queensland.
Therefore it does not matter if your loved one is coping with – Dementia or Alzheimers – Has a Disability – Child / Adult – Is Frail / Aged – Recovering from Surgery – Or an Extended Hospital stay – Suffers from Loneliness & Isolation – A Desire for End of Life Care at home Or just trying to Grow Old Gracefully and Independently. we can help.
Our home-based Respite service strongly believes in an Holistic Approach to our Clients every-day care, focusing on supporting the whole person through the unity of body, mind, emotion, spirit and environment as these aspects of our lives are closely interconnected and balanced. With services that are Patient-centered Care Based on respect for our client's values and preferences, always providing information that is clear and with understandable terms, promoting autonomy in decision making and attending to their need for physical comfort and emotional support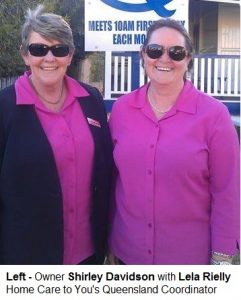 Concentrating on providing a high standard of care to Clients in Rural and the more remote areas of Queensland and have been in operation since March 2012 servicing the Darling Downs, Southern & Western Downs, South West Queensland and Wide Bay-Burnett both privately and supplying staff to Commonwealth Respite and Care-link Centres on the Darling Downs, MS Queensland and Blue Care Cottage Respite Queensland.
With years of personal experience caring for family members, it became obvious that there were many inadequacies in the present in-home Respite system particularly at times when you actually needed additional extended support. When my time as a caregiver ended it became my passion to make life easier for other families and carers who would follow in my footsteps.
As a full-time caregiver in the past, I also understand that it is not always just an emergency when you need Extra Support for a few days or weeks. You may simply be Exhausted from your caring role and need a chance to Recuperate, have a Family Celebration you would love to attend, or have more Quality Time with other Family members.
John and I are available to you 24/7 on 0407 409 144 because as we all know too well emergencies never happen during business hours.